We're connected by more than power lines--we're a part of your community. Our employees live and work alongside you, and we're invested in seeing our communities thrive.
We know that many of our members are struggling because of the economic impact of the pandemic. So instead of our usual Annual Meeting door prizes and giveaways, we've opted to contribute to organizations that are directly helping our members who are most in need during these difficult times.
One of these organizations is the Coastal Bend Food Bank. On Saturday, September 19, San Patricio Electric Cooperative presented a $10,000 check to the Coastal Bend Food Bank, which is helping people across our service area by providing food and other necessities.
This donation will provide 30,000 meals to families in the Coastal Bend.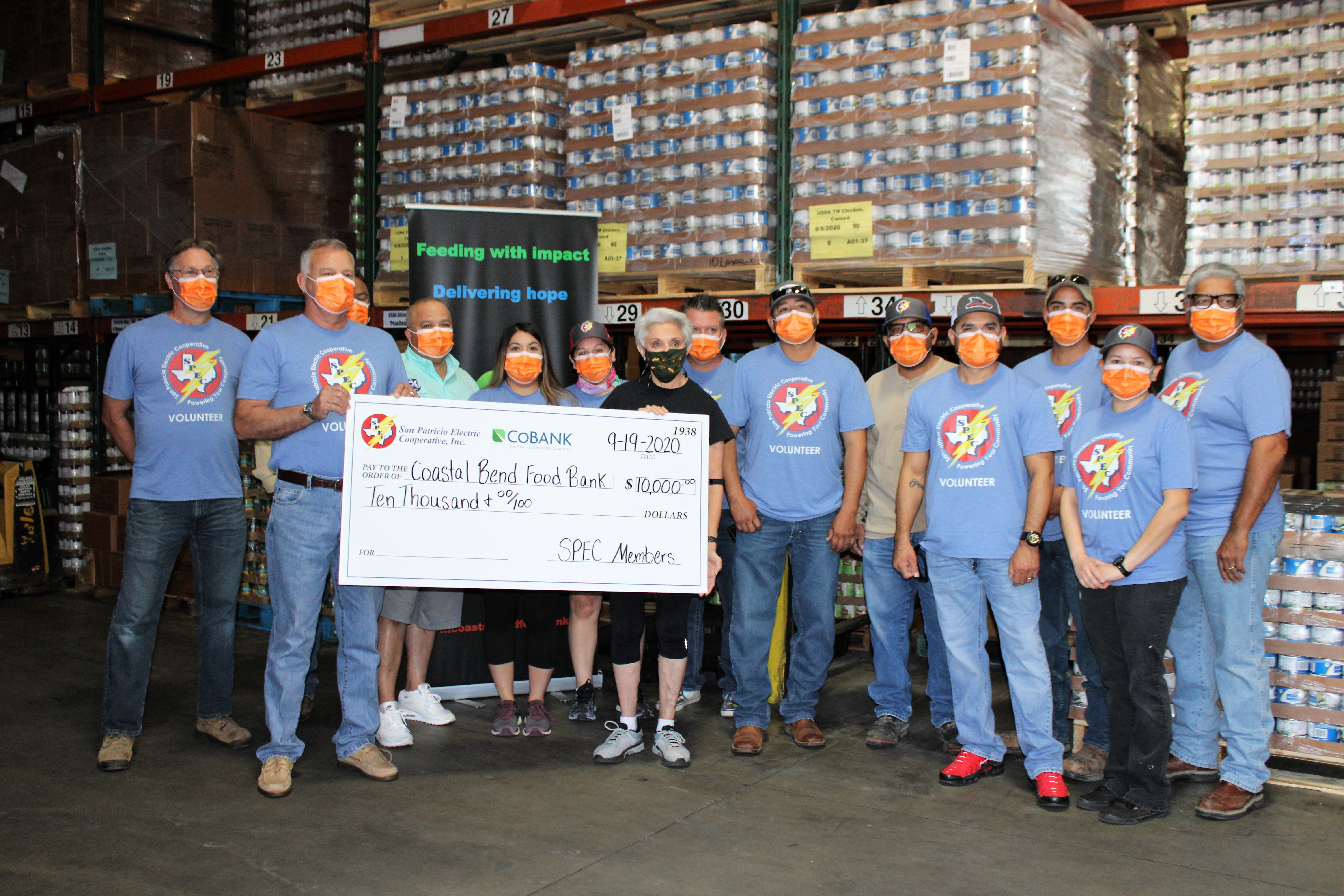 In addition to the financial contribution, a group of 15 SPEC employees donated their time to volunteer at the Food Bank. In four hours, our employees packed 554 boxes of food – a total of 11,080 pounds— for the Food Bank's mobile distributions. The food in these boxes will feed 2,016 families.
The Coastal Bend Food Bank provides food assistance in 11 South Texas counties through community food pantries and mobile food distributions. If you need help, click here to find a food pantry or mobile distribution near you.
This $10,000 donation was part of a grant matching program through our lender, CoBank. SPEC's Board of Directors approved a donation to the food bank earlier this year, and the co-op applied to CoBank's Sharing Success Program in hopes of doubling the amount we planned to give. The Sharing Success Program matches donations by the bank's cooperative customers to eligible nonprofit organizations in their communities.
Through our participation in the Sharing Success program, we committed to donating $5,000 to Coastal Bend Food Bank and CoBank matched an additional $5,000.  
 CoBank's Sharing Success program was started in 2012 as a way to give back to co-ops and the non-profits they support. Since the program's inception, CoBank and its customers have together provided more than $44 million in support to charitable organizations across the nation.
SPEC and CoBank have partnered on similar donations in the past through the Sharing Success program. Previously, SPEC has made donations to area volunteer fire departments, the South Texas Women's Shelter, Boys & Girls Club of Beeville, Girl Scouts of Greater South Texas, the South Texas Council of Boy Scouts and South Texas Children's Home.